SPLICING AND SHORTENING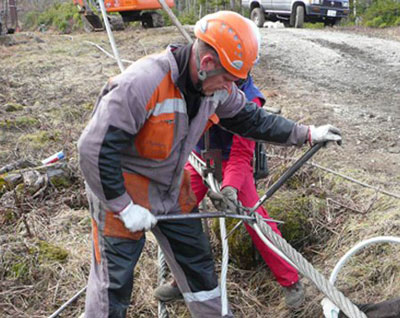 TEC CABLES BOURG delegates a technician for supervising cable splicing or shortening services. On arrival, he checks that the safety conditions required (access, environment, assembly, taking up slack, etc.) are present and draws up the Individual Health Protection and Safety Plan (IHPSP). Then, together with the site team (assembly team, personnel made available from the client) he carries out the cable splicing or shortening operation in compliance with quality procedure requirements, and followings the steps detailed below :
Taking measurements, preparing the "intertwining", and calculating knot distribution.
Straightening and preparing strands for insertion (the greatest care is taken in this operation), inserting strands.
Pressing knots under heat and, wherever possible under tension (for increasing the splicing quality).
Taking dimensional readings of the splice and drawing up the intervention report.