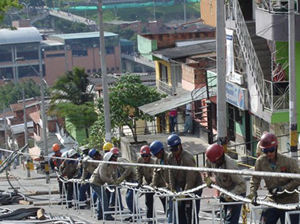 Up until 2009, ArcelorMittal Wire Bourg-en-Bresse installed and maintained cables and wire ropes sold throughout the world via its in-house department, TES. As a part of its reorganization programme, ArcelorMittal decided to reorganize this sector of activity. As a result, TEC CABLES BOURG was created in September 2009.
The vocation of TEC CABLES BOURG, based on the Bourg-en-Bresse production site is to develop services offered to traditional and future ArcelorMittal customers, by offering increased reactivity and adapting itself to technical developments.
TEC CABLES BOURG also has a vocation for installing and servicing ArcelorMittal products distributed by the TRACTION LEVAGE company, based in Gardanne (France, near Marseille).
TEC CABLES BOURG relies on a structure comprised of specialists and professionals from the former ArcelorMittal TES department, capable of dealing with all cable installation, repair and maintenance operations.
Fields of activity: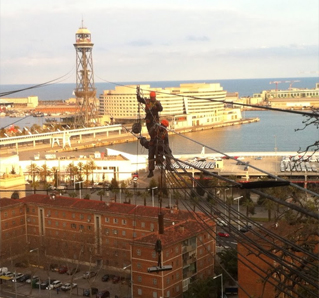 TEC CABLES BOURG offers you its expertise in the following sectors:
Cable lifts (ski-tows, chairlifts, gondola lifts, aerial cableways, etc.) in ski resorts.
Urban cableways or railways.
Offshore platforms.
Dams and hydroelectric installations.
Hoisting equipment (harbour cranes, bridge cranes, etc.).
Industrial cable equipment.
Services:
TEC CABLES BOURG uses its know-how for:
Splicing and shortening cables.
Stringing and changing cables.
Cable rigging (sliding, raising carrying cables, taking up slack, etc. ) .
Socketing.
Expertises.
All other cable operations (replacing strands, replacing sections, repairing, etc. ).