SOCKETING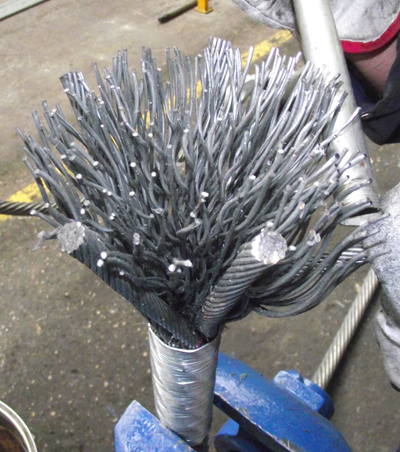 TEC CABLES BOURG carries out all socketing operations on :
Stranded cables,
Stay ropes,
Locked-coil cables.
with the following sockets:
cylindrical
moulded
mechanically welded
eye or open type wedge sockets
rope coupling type
On arrival, the technician in charge checks that the safety conditions required (access, environment, assembling, taking up slack, etc.) are present and draws up the IHPSP and requests the certificate of conformity for the sockets made available. The socket assembly process is carried out as per the required quality procedure, finished by marking the rolled conical end for identification and a completion report drawn up.
Speltering may be done with the following materials :
zinc alloy
zinc-cadmium alloy
resin.